---
---
---
Quintet of cyclists test new kit
in Catalonian photoshoot
DAY ONE
It was very early, intensely cold and we had a flight to Barcelona to catch. We were underslept, but tiredness couldn't compete with the excitement that was coursing through our veins. A last-minute check – passport, wallet, bike – and we were out the door and into a waiting taxi.
We picked up our rental van at El Part airport and pointed it north-eastwards towards Girona, an hour's drive away. Catalonia felt relatively balmy to our British extremities, but the locals were dressed as though it was winter in Antarctica. No matter – we looked up and received confirmation that it was going to be a beautiful day: a clear Wedgwood blue sky, and the sun sitting in it like a freshly minted coin.
In Girona, we decided to refuel, so we headed to La Fábrica, one of Spain's best cycle cafes, which was set up by an ex-professional cyclist, Christian Meier. The hospitality, food and organic coffee were outstanding, and the peloton is always welcome. We determined to return at our earliest opportunity.
Amazing fare at La Fabrics Coffee Works
We made plans for the afternoon before checking in to our hotel, built our bikes (many thanks to Cannondale for its support) and hit the road. After all the travelling, our first day was in danger of disappearing, but we made for Els Angels, a gentle-ish winding 25-kilometre climb through the foothills of the Pyrenees to a chapel of the same name, where the painter Salvador Dali got married. It was really no distance from the city, and the views from the chapel terrace were panoramic. Daylight was against us, though, so we called it a day, having taken some great shots and we were positively buzzing with ideas for the following morning's shoot..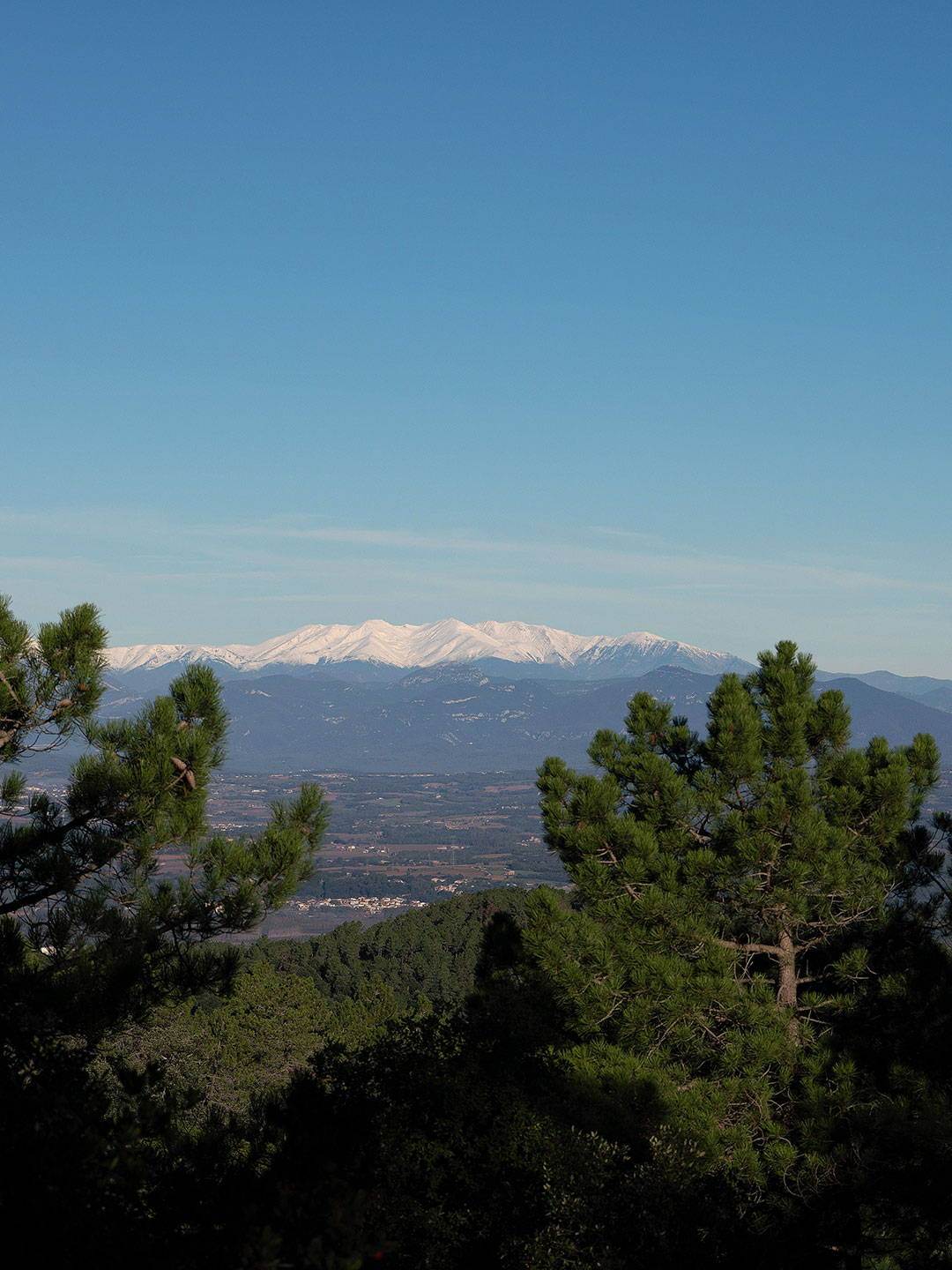 Incredible views across the mountains
DAY TWO
I took a look at the weather. Mmm, it was overcast, a tad gloomy, but not raining, and with a little luck some morning sunshine would burn off the clouds. It was breakfast time, and a buffet had been laid on. I was the last to come down, loaded up on cakes and cereal, and washed them down with coffee and freshly squeezed orange juice. Conversation was subdued, but I could tell everyone was preoccupied, busy getting themselves into gear.
After cycling for a morning, we stopped at a village bakery for coffee and some sugar-covered, custard-filled delicacies. Rousing me from my delight, someone, I forget who, suggested that we should head for the Pyrenees, "as we'd get some great snow shots". I readily agreed – I blame the sugar – but, really, I had no idea how far away the 'Nees were. We set off with the best of intentions but soon realised that, again, the light wasn't on our side, so we left the main road and aimed ourselves at what looked like the nearest mountain.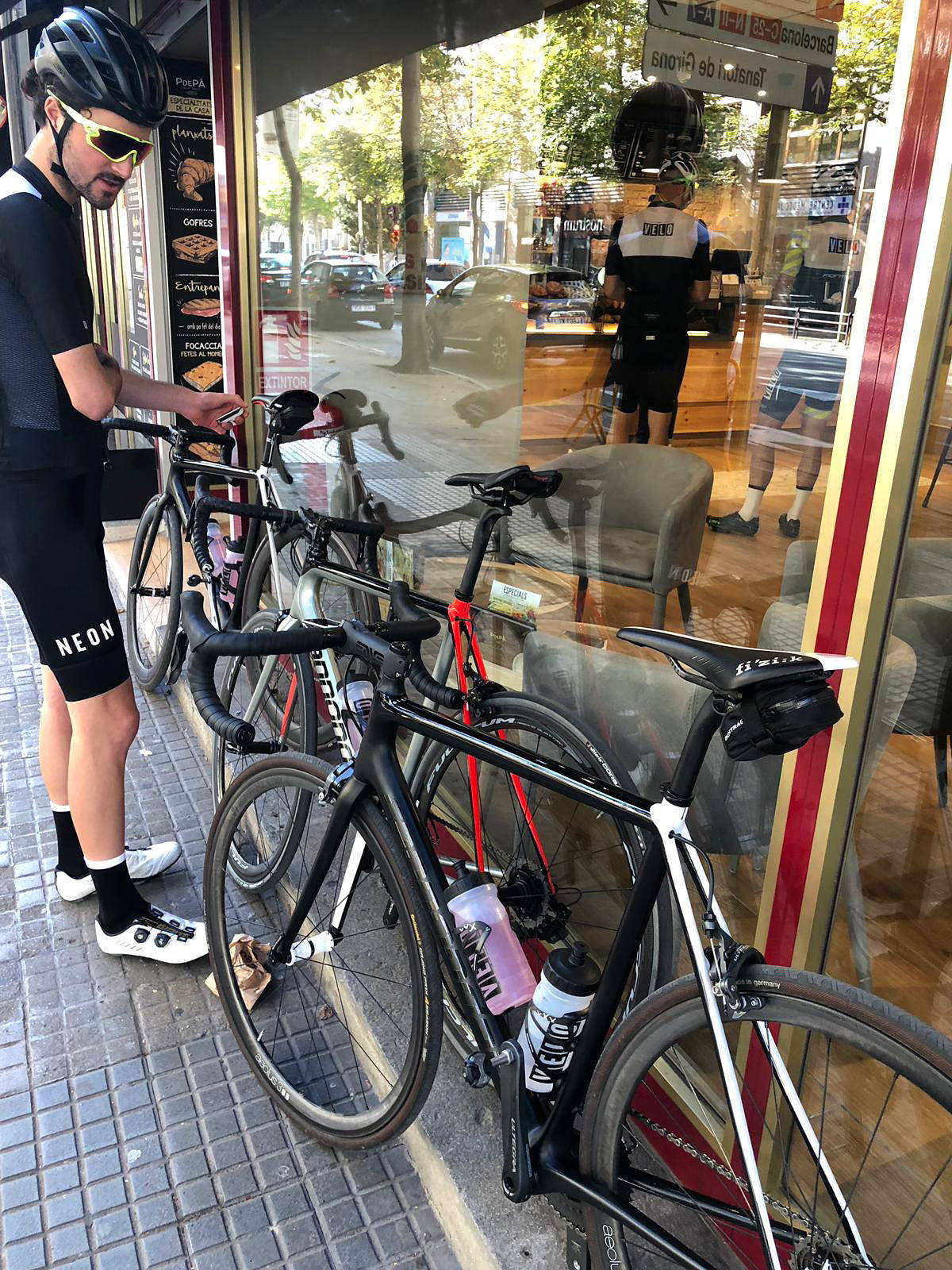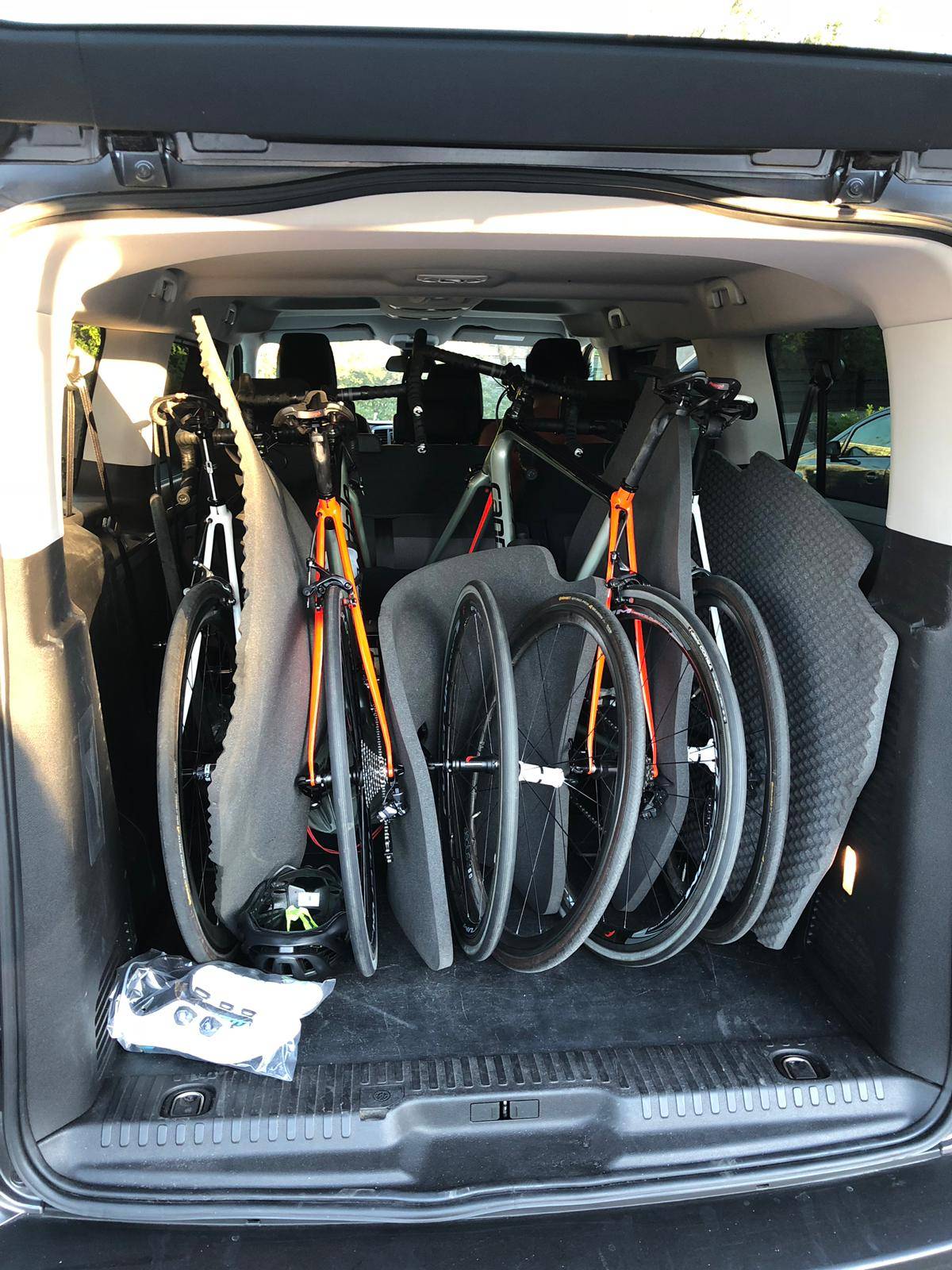 Refuelling on caffeine and cake
"Spectacular" doesn't begin to cover what we discovered. We wound our way gradually through small villages and grove upon grove of oak trees – the sort that provide the cork for wine-bottle stoppers – only to be rewarded with a monster climb, which must have touched one-in-four in places, with steep switchbacks, on a single-track road. The surface was silky-smooth, almost unbelievable to cyclists used to British roads.
There was another wonderful surprise in store, which, had we pushed north, we'd never had experienced: the viaduct at Maçanet de Cabreny, which gazes down, almost wistfully, on the valley below it. Beautiful. Needless to say, our photographer, Jaggers Padda, was up to the task of capturing it.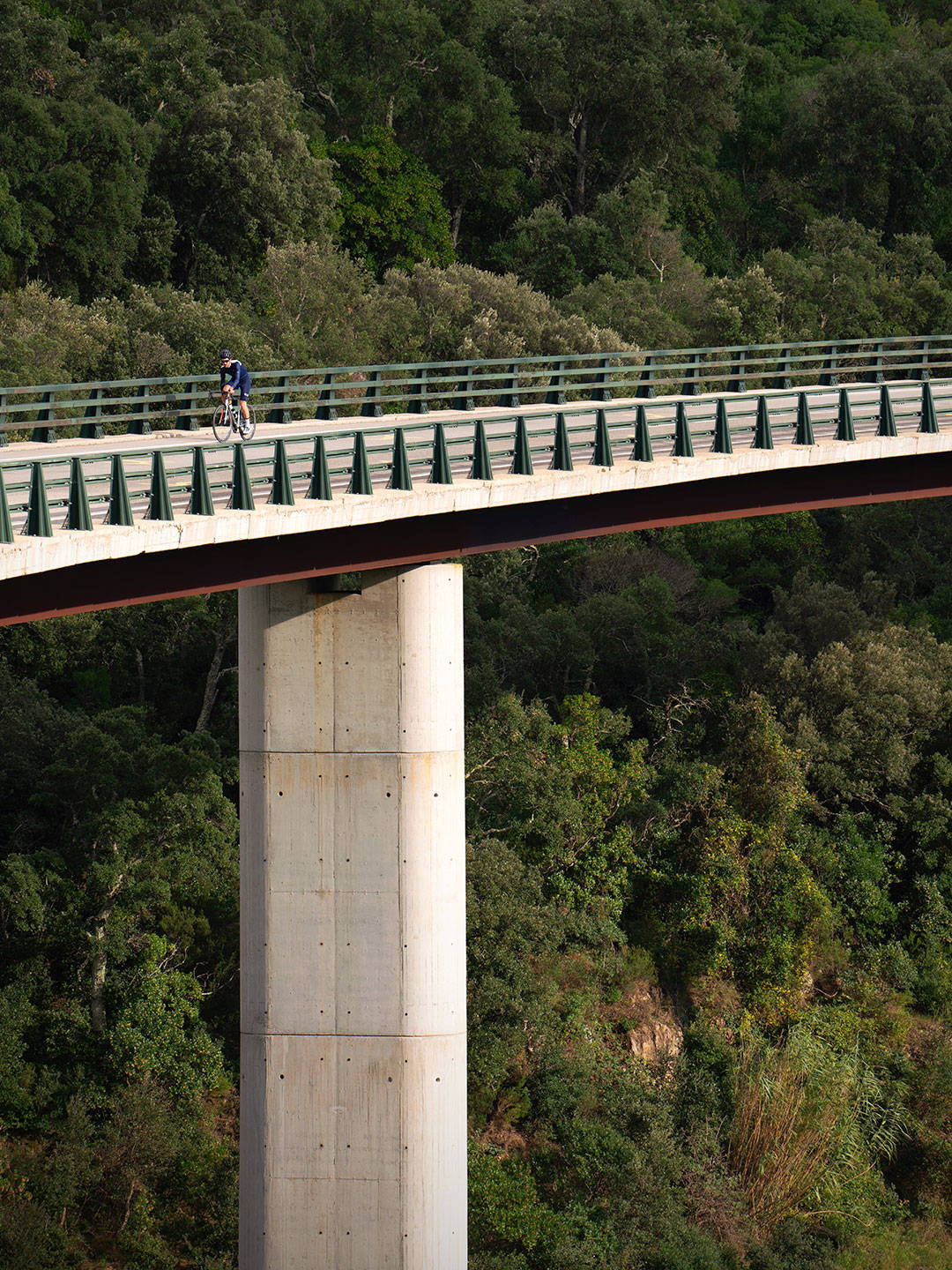 Riding across the

viaduct at Macanet de Cabrenys
DAY THREE
The sun beamed through the window of the hotel restaurant, as we wrapped cake from the breakfast buffet in napkins and grabbed handfuls of fruit. We'd decided that Girona proper would be our first port of call, and we figured it was better to get there early. The city has become a popular tourist destination, thanks to the fact that it has "starred" as Braavos, Old Town and King's Landing in the TV series Game of Thrones, and we were looking for images that said "sleepy and quiet", not "this is where a blind Arya Stark was trained to fight".
We travelled light, with just bikes and cameras, and took some great shots, then popped into the frankly irresistible La Fábrica again, before wheeling our way out of the city, through a tunnel that reminded us of an Alpine avalanche shelter, and up a steep hill, the top of which surrendered some astonishing views of the city..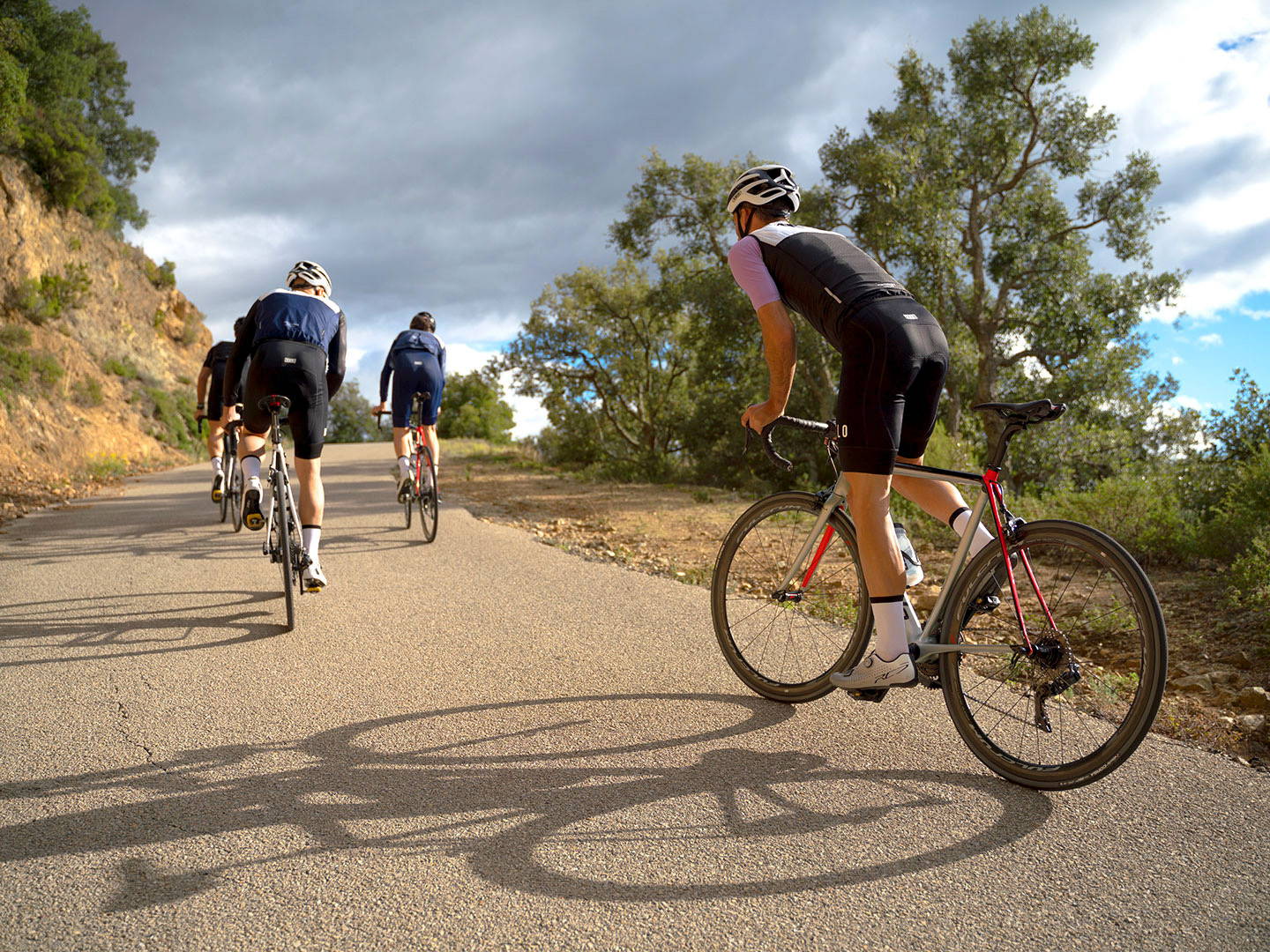 We decided to dedicate our afternoon to some serious cycling. Five-times National Cyclo-Cross champ Ian Field knows the area well, since he used to live here, and he took us on his old training loop, taking in Els Angels and St Sadurní (aka Hincapie Hill – yes, after George Hincapie). Backdropped by snow-capped mountains, the scenery was glorious, especially the autumn leaves glowing yellow, orange and red, and the ride was bracing. We raced the dark home, taking in Spain's No 1 golf course, PGA de Catalunya, and Lance Armstrong's old apartment.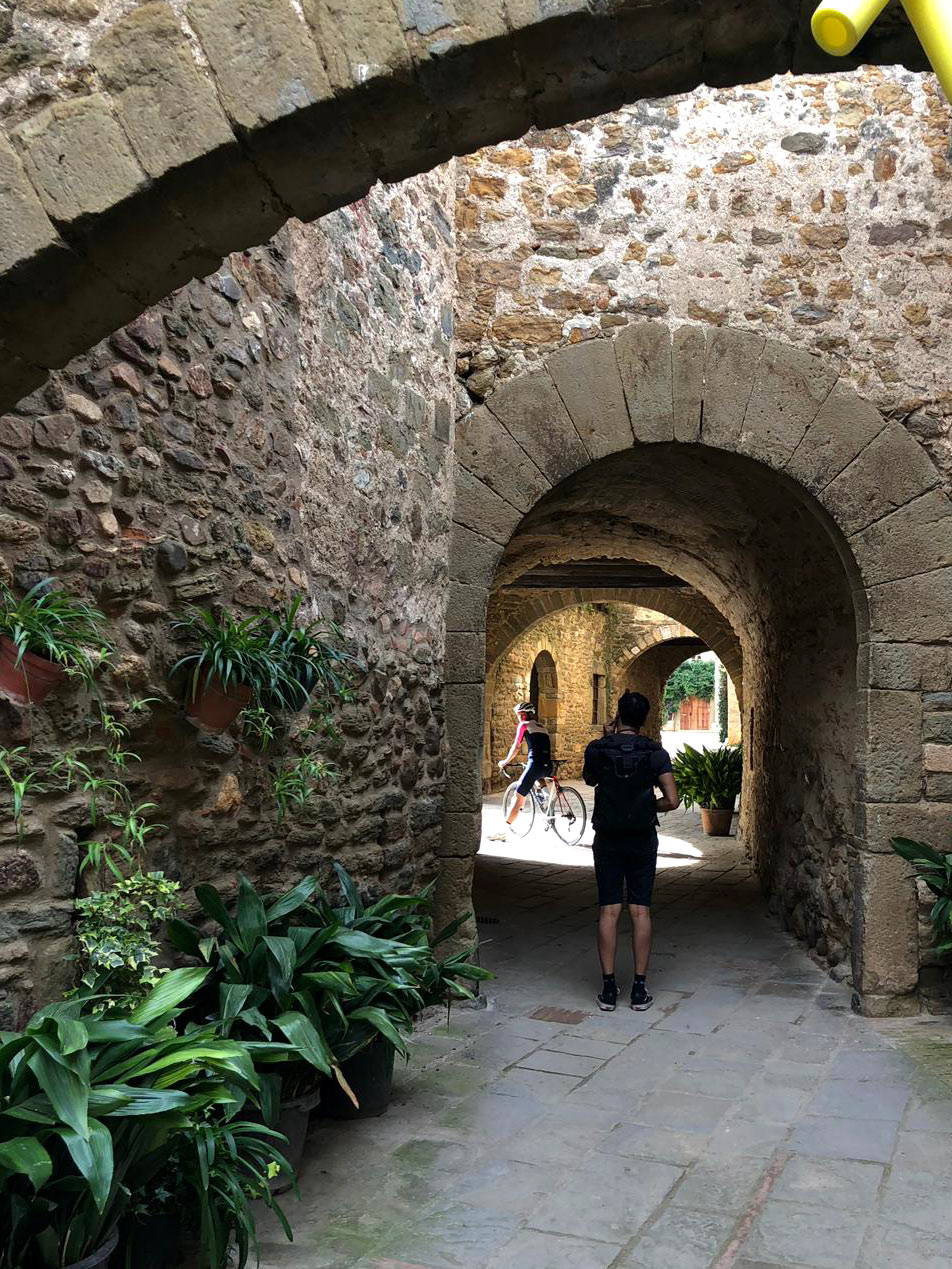 Above: Shooting the beautiful town of Monells, Below: the final shot
DAY FOUR
Though we hadn't been riding all day each day, as we would have been on a long tour ride, shooting on location can be tiring work. We had to repeatedly load and unload equipment from the van, to ride up and down the same stretch of road as many times as we were needed to get the right shot, and then, once the photographer was happy, we would do it all over again somewhere else, then somewhere else, then somewhere else. Sometimes we knew the shot we wanted, but we didn't know where to find it. We spent a lot of time scouting for suitable locations. A dream job, maybe, but demanding all the same.  
Yellow ribbons were tied along many of the roads that we travelled. Supporters of Catalan independence adopted the ribbons in 2017, originally as a symbol of solidarity with political leaders who were arrested during the pro-independence protests. Manchester City manager Pep Guardiola, who was born in Sentpedor, Catalonia, has often been seen wearing one. When we arrived in the sleepy town of Monells, we found ribbons tied to just about everything in the market square. Once we'd finished there, we went back to the hotel to freshen up, then hit the road for a training session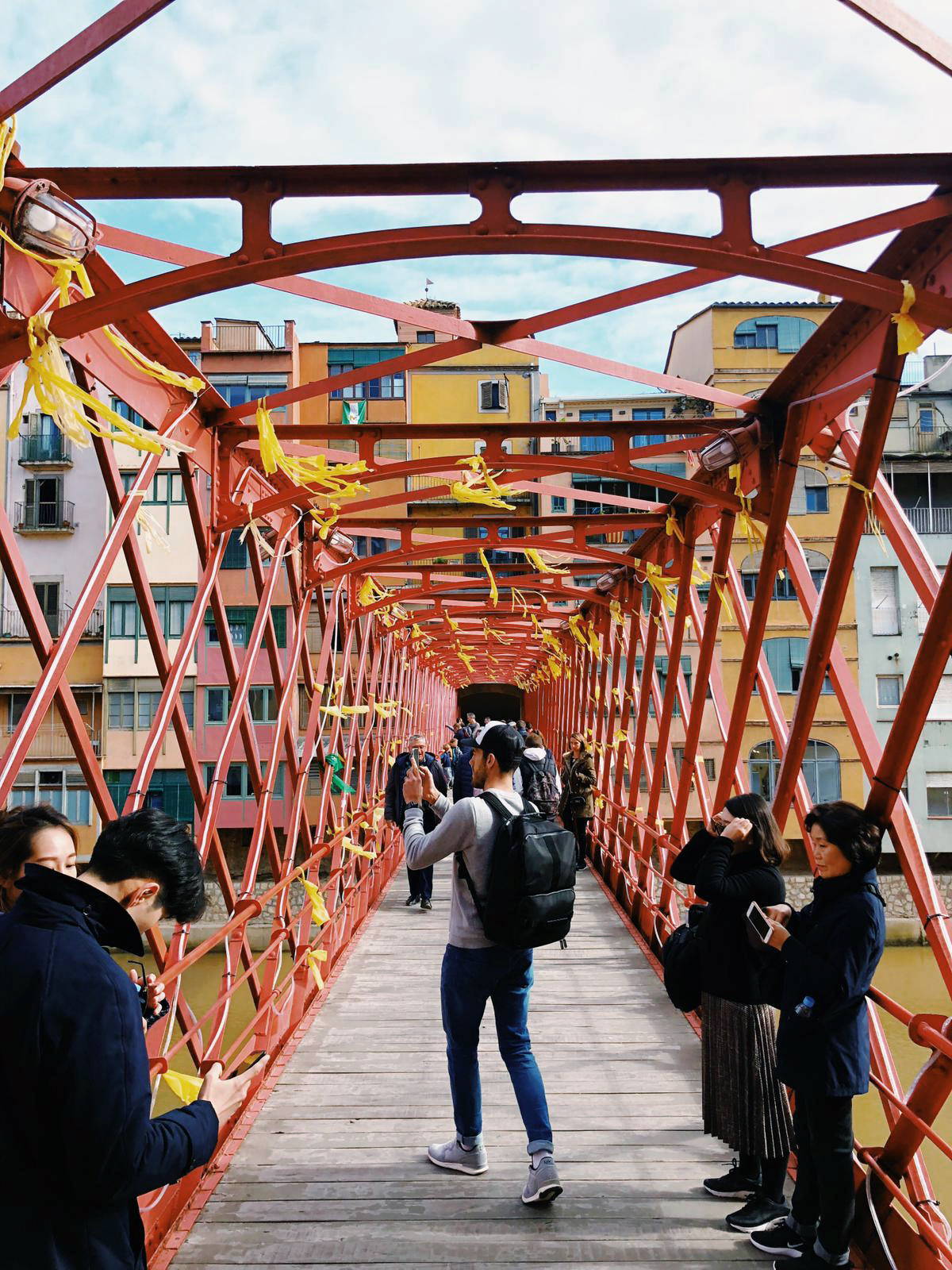 Yellow ribbons adorn the Pont de les Peixateries Velles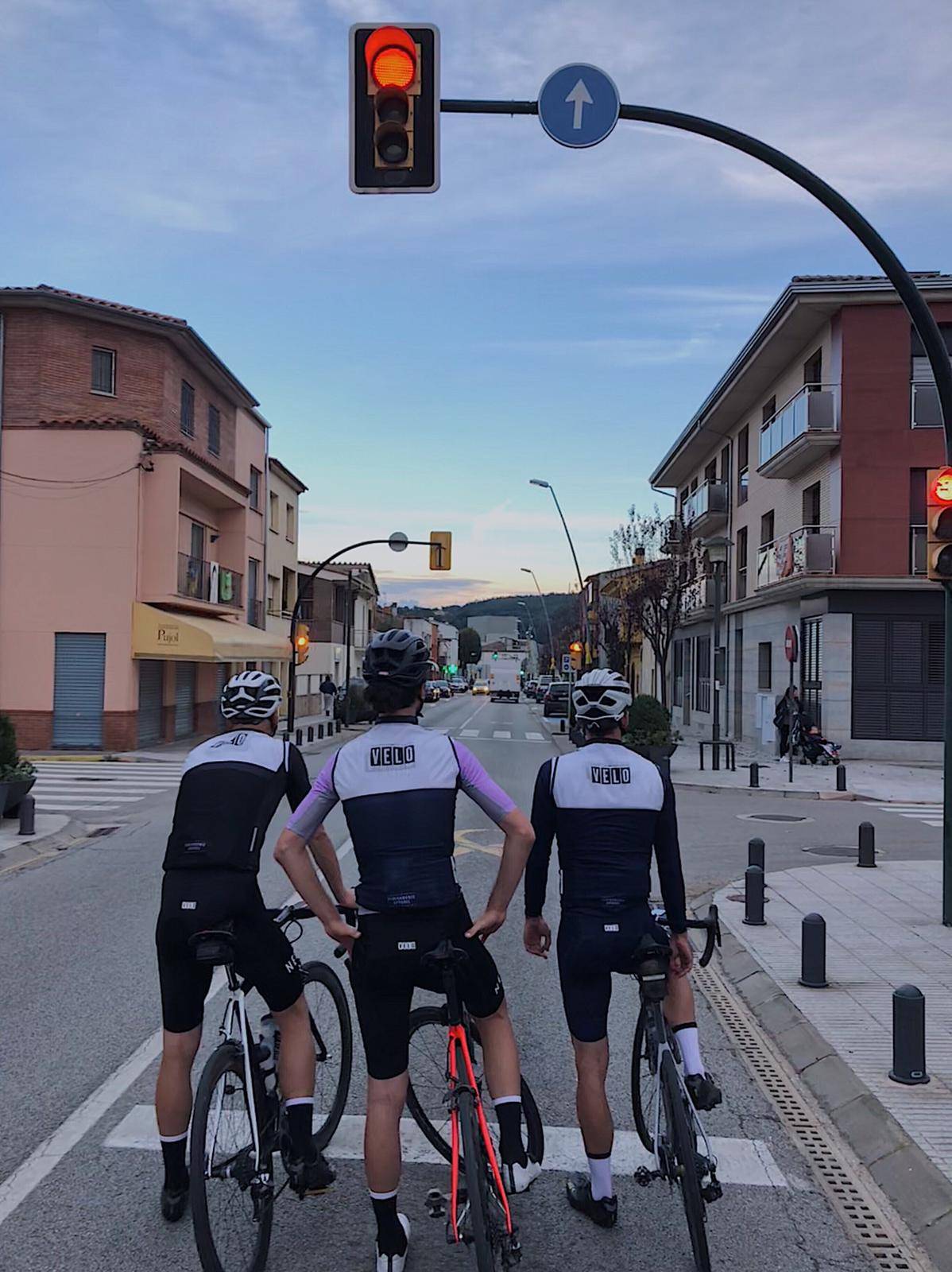 A stream of red light greeted us in Girona's suburbs
Ian led the way towards La Garrotxa Volcanic Zone Natural Park, via Sant Martí de Llémena and, on the way back, Sant Martí Sacalm, which, at 8.3km long and a 7% average gradient, is a test for any dedicated climber. It isn't a through road, so once you've hit the top, there's only one way down. I'm sure the views were extraordinary, but we couldn't see a thing owing to cloud cover. Once our hotel was close, we raced each other through the suburbs of Girona, hitting a succession of red lights. The whole adventure was tremendous fun.
Thanks to Ian Field, Tom Yiangou and Jaggers Padda for their great company and superb work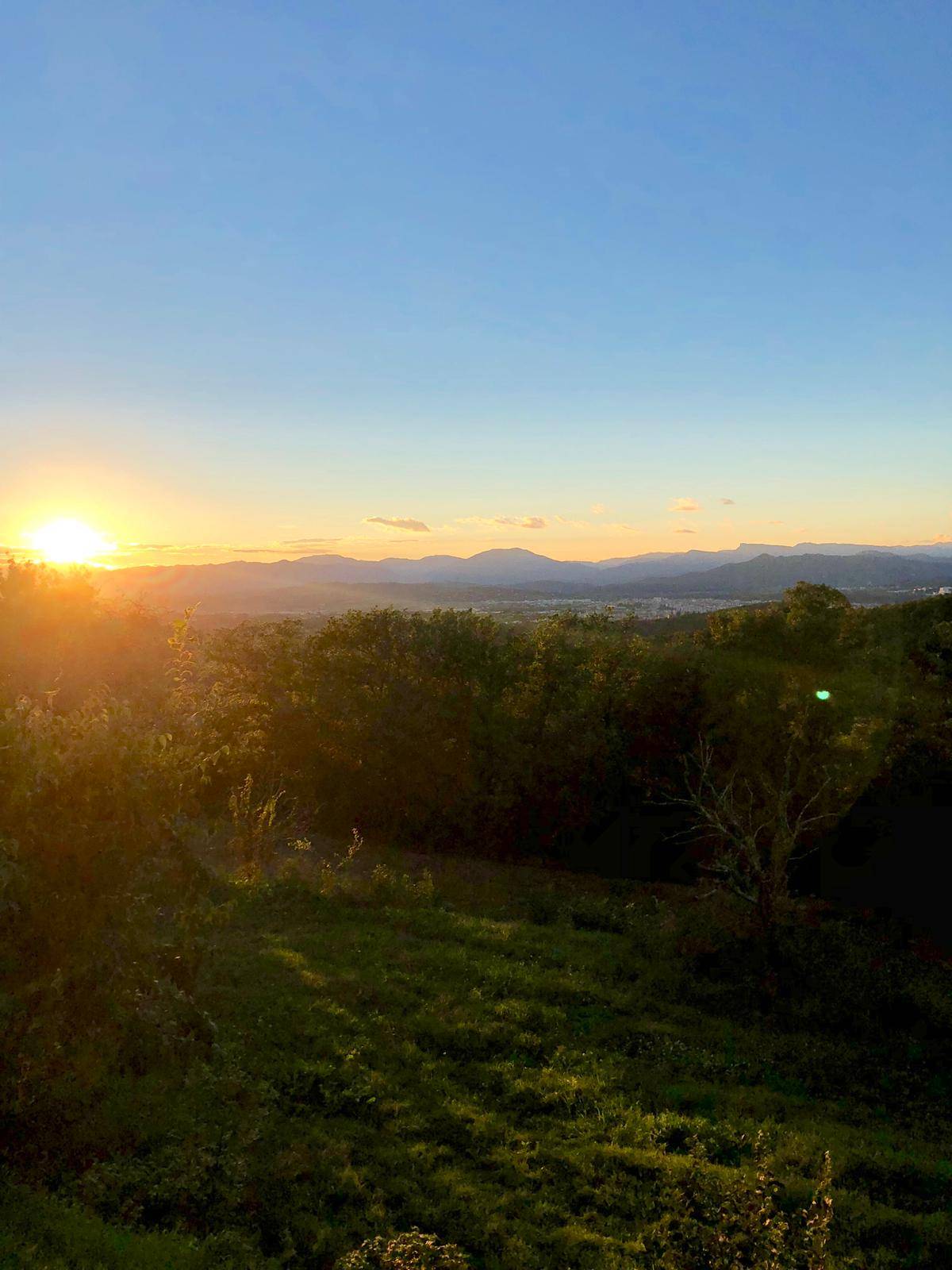 The sun sets over the Pyrenees